MULHOUSE 
Mulhouse is a destination that can take you to the heart of tradition and give you a glimpse of modernity.
With many exceptional museums, noteworthy parks and unforgettable events, this place can share its secrets so well, promise friendly moments, unveil its assets in all simplicity.
You can find more information about Mulhouse at the website: www.tourisme-mulhouse.com  or https://www.visit.alsace/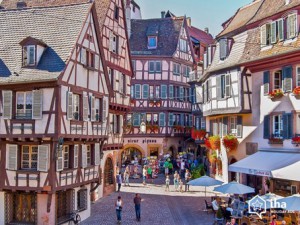 WITTELSHEIM
Wittelsheim is a city in the suburbs of Mulhouse in the historical and cultural region of Alsace.
This town is located in the historical and cultural region of Alsace and is part of Mulhouse Alsace Agglomeration.
Home to many churches, this town also offers a unique feature: The Gardens of the World park.
This unique theme park features different styles of gardens that have influenced the Art of Gardens from the Middle Ages to the present day with Spanish, Japanese, Italian, French and English gardens. All of these thematic gardens are unified by water, through fountains, canals, water mirrors, jets, ponds and water stairs.